2020
In 2020, the White Ribbon Mile will once again be the focus of attention. The path will be open from Monday September 7 to Friday September 25. On September 25 the event will conclude with a silent march.

In connection with the current coronavirus crisis, the silent march is only open to invited guests. This silent march goes from the Oude Kerk (Old Church) in the town of Oosterbeek (the Netherlands) to the monument on the River Rhine where flowers can be placed
Symbolic March
The White Ribbon Mile is a short symbolic walk through the floodplains of the Oude Kerk in Oosterbeek to the memorial monument on the River Rhine. It is a reminder of the withdrawal route that the English and Polish soldiers took after the failure of the Battle of Arnhem. The route ran from Hotel Hartenstein through the woods of Oosterbeek to the floodplains near the Rhine and was marked with a white ribbon. A white ribbon is now only visible in the floodplains during the commemoration period in September.
Veteran Sandy Cortmann has passed away
On Saturday evening May 23rd, 2020, veteran Sandy Cortmann from Aberdeen passed away at the age of 97. Sandy gained national fame in 2019 when he visited the region for the first time since the Battle of Arnhem. We also hosted Sandy when he visited the Oude Kerk and the monument on the Rhine in the September of 2019.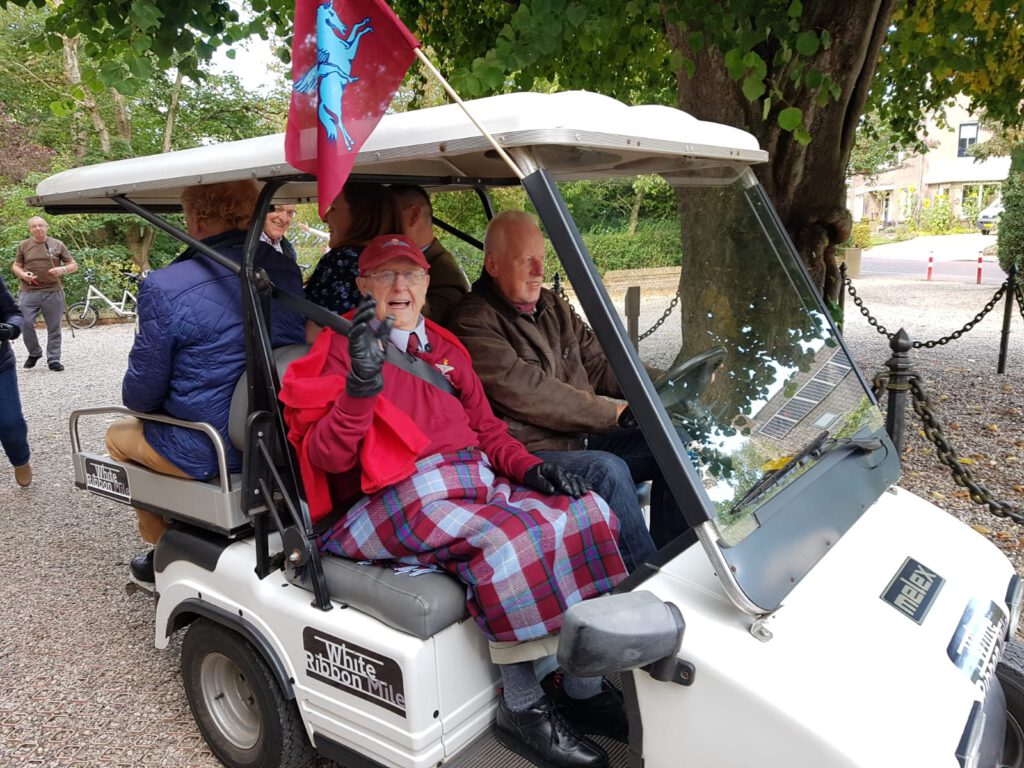 Volg ons op Facebook